Dry Skin Atopic Dermatitis

Psoriatic skin

Allergic reactions of the skin

Hand eczemaa
a
The Gel contains Xylitol (proven to repair barrier damage) and Glycerol (proven anti –irritant)
Non Newtonian viscosity profile causes the applied layer of the product to remain uninterrupted after evaporation, thus providing prolonged action
a
Xylitol and Glycerol are strong humectants-moisturizers and are natural materials.
Combining them is a single product provides highly effective results.
Highly effective in treating any type of Dry Skin condition, more than 24 hours effect
A powerful moisturizer, effective for treatment of dryness in Atopic Dermatitis
Prevents bacterial colonization in vitro and in vivo infection hindering property is especially important in Atopic Dermatitis and inflammation prone skin
Xylitol accelerates epithelial wound healing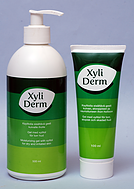 a
2.5% Hydrocortisone in Moisturizing, Anti-irritant Gel for treating Contact Dermatitis.
Marketing License for the claim of different types of Dermatitis
AA
Additional new products in registration or/and in development stages
To learn more please contact us